Calendar

November 27th, 2005
Indianapolis, IN
Eid Show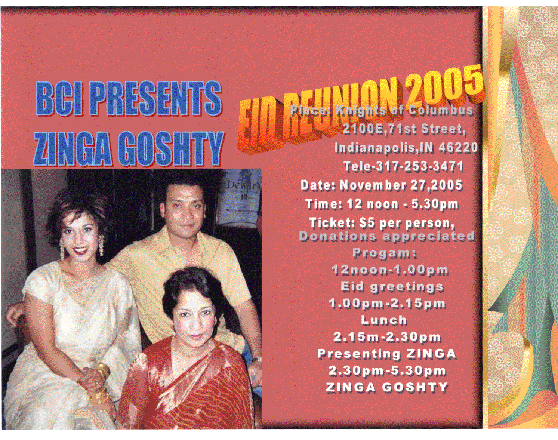 November 6th
Washington D.C/Virginia
Venue: Holiday Inn Hotel
10800 Vandor Lane
Manassas, VA 20109
Sep 24th, 2005
Orlando, Fl
September 3-5, 2005
Miami, FL
FOBANA 2005
For more details Visit:
February 19, 2005
Zinga in Houston, TX
6th International Mother Day Language Day
Sponsored by Bangladesh Association of Houston
JULY 17TH SATURDAY, 2004
ZINGA INVITES YOU TO BAY CITY You are cordially invited to attend Zinga's upcoming grand show at the Bay City San Francisco organized by
BABA
.
Zinga is back in the music domain once again stronger than ever with zinga's legendary POP ARTIST NAJMA ZAMAN AND THE NEXT GENERATION performers SHAZIA & SHAYAN ALI, new mind blowing songs, and explosive live performance.
Take this opportunity to go back into the memory lane with some of Zinga's original hit numbers and some extraordinary new songs performed live in front of your eyes.