Late Shafaat Ali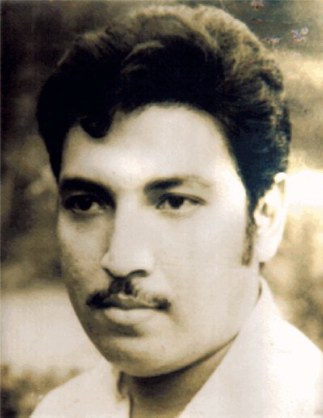 THE FOUNDER OF ZINGA GOSHTY. FORMED THE BAND IN 1963.
LATE SHAFAAT ALI WROTE AND TUNED NEARLY 10000 BANGLA SONGS AND PRODUCED NUMEROUS ZINGA ALBUMS UNDER THE WINGS OF EMI RECORD , DHAKA RECORD AND THEN ZINGA'S OWN LABEL - IPSHA RECORD LTD.
ZINGA PLAYED A KEY ROLE IN THE WAR OF INDEPENDENCE. SHAFAAT WROTE SEVERAL HEART WARMING INSPIRATIONAL SONGS ON THE WAR OF INDEPENDENCE THAT PLAYED IN SHADHIN BANGLA RADIO IN 1971 AND PROVIDED INSPIRATION AND GREAT COURAGE TO OUR FREEDOM FIGHTER BOTHERS & SISTERS.
UNDER HIS WING ZINGA PLAYED AT VARIOUS STATE FUNCTIONS AND PERFORMED FOR VARIOUS INTERNATIONAL LEADERS AT THE BONGOBHOBON STATE HOUSE.
SHAFAAT'S CONTRIBUTION TO THE BANGLA MUSIC INDUSTRY IS REVOLUTIONARY. HE NOT ONLY CREATED POP STARS LIKE NAJMA ZAMAN BUT ALSO GAVE THE MUSIC INDUSTRY TONS OF TALENTED ARTISTS LIKE KADERI KIBRIA, LINU BILLAH, NARGIS PARVEEN.
SHAFAAT RAN HIS OWN RECORD LABEL -IPSHA RECORD LIMITED IN DHAKA AND PRODUCED AND RECORDED NUMEROUS ALBUMS OF VARIOUS ARTISTS INCLUDING RUNA LAILA, SABINA YASMEEN , LUCKY AKHOND, HAPPY AKHOND, KUMAR BISWAJIT, FIROZ SHAI ETC. ETC.
UNDER HIS LABEL . SHAFAAT PASSED AWAY IN 1997 AT THE AGE OF 55 LEAVING BEHIND HIS THREE CHILDEREN AND WIFE.
SHAFAAT'S LEGEND CONTINUES WITH ZINGA GOSHTY.